This page refer's to the actual prehistoric creature. See Leviathan (Mythical creature) for more. Leviathan Melvillei is the scientific name (and so far the common name) of a gigantic predatory whale that is closely related to the sperm whale.
It lived about 12 million years ago most likely in the Eocone-Pliocine era where whales such as Basilosaurus had dominated the oceans. It was most likely in the Pliocine with sources, but the top predator was Megalodon.
Its average size was 44 feet in length, but some of the larger fossils show it could grow up to 57 feet in some cases!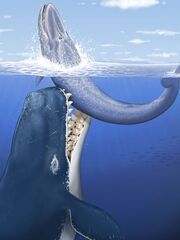 Ad blocker interference detected!
Wikia is a free-to-use site that makes money from advertising. We have a modified experience for viewers using ad blockers

Wikia is not accessible if you've made further modifications. Remove the custom ad blocker rule(s) and the page will load as expected.